The Joshua Tree Retreat Center offers an intentional habitat for wellness-based programs, arts based cultural events, environmental education and deep spiritual inquiry.
What do we do Here?
The Joshua Tree Retreat Center, home of The Institute of Mentalphysics, is a unique 501(c)(3) spiritual center with many facets. Our mission is to be a retreat center for individuals and groups to create and experience new ways to approach spiritual living and personal well-being. Throughout the year we host retreat groups of up to 50 people.
As the Institute of Mentalphysics we house the archives of the founder Edwin Dingle aka Ding Le Mei, keep the world-wide student database, publish the teaching materials, and offer Mentalphysics breathwork classes weekly.
Edwin Dingle was a visionary and when it came time to build his teaching center in Joshua Tree, CA, he wanted the buildings to reflect the qualities of the desert that allow one to go deeper into their own practice. At the time Frank Lloyd Wright had established the Taliesin Fellowship in the Sonoran Desert, embodying the desert principles that inspired Dingle. He wanted to hire Frank Lloyd Wright to build his vision of the City of Mentalphysics, and although Wright respectively understood the project he turned it over to his son Lloyd Wright. Today we have the largest collection of Lloyd Wright buildings constructed and aligned with Organic Architecture. To oversee design choices and steward the organic architecture restoration projects we formed the Whole Arts Auxiliary.
On the property you will find a lot of triangles used in the design. Our focus is threefold: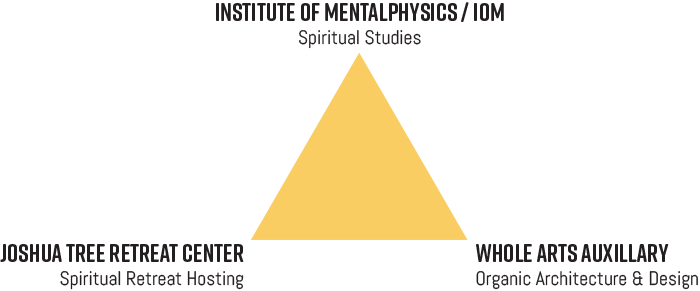 ---
FAQ
Can I explore the grounds?
Yes! Locals and visitors are invited to explore the grounds daily. Pick-up a campus map in the bookstore or cafe Thursdays through Sundays from 7am to 3pm to start your self-guided walk.
Is the retreat center public property?
No, it is private property. We encourage community engagement and have weekly classes and events open to the community.
Can I bring my pet?
We do not allow pets on the property, except for bona fide service animals.
Can I camp on the grounds?
Unfortunately, we are not zoned for camping.
Can I stay in one of the rooms if I am not part of a retreat?
Yes. We now offer personal retreats to give individuals the time and space to reflect, renew and recharge, over the course of 2-days or more. Personal retreats are ideal for guests looking for a quiet and serene environment to finish a work in progress or begin a new project or chapter in their spiritual journey.
Who owns the retreat center?
The Center is a long established nonprofit organization that is administered by a board of trustees and managed by staff. The property is owned by the organization.
---
Connect with our Mission